iOS Apps
Sneak a peek through the keyhole
Have a look at a selection of our recent projects. This list does neither claim to be complete, nor represent a ranking order. All our customers are equally important to us.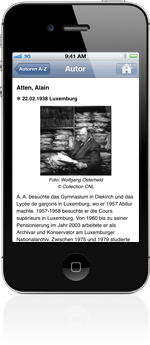 CNL Lexikon
The encyclopedia of luxembourgish authors describes the life and work of writers, who have been active since 1815 in the literary life of Luxembourg. It provides readers and researchers with useful biographical and bibliographical material and data collections. It offers an overview of the creative literary work and its historical background in and from Luxembourg. The encyclopedia lists more than 1,000 authors with their pseudonyms and name variations together with more than 6,000 works in 12 languages. The illustrated encyclopedia of luxembourgish authors also provides information about literary awards, translations, audio works, films and archival documents.

The app was developed in co-operation with the "Centre national de littérature".

The universal App runs on iPhone, iPad and iPod touch. It offers its information both in german and french.

You can download the "CNL Lexikon" app for free from the Apple App Store.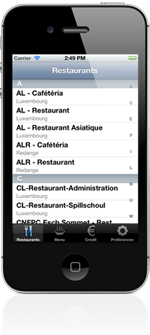 Restopolis
The app "Restopolis" addresses students and teachers in Luxembourg. The app allows its users to request the current menu of their favourite "Restopolis" school restaurant operated by the "Ministère de l'Éducation nationale et de la Formation professionnelle - Service de la Restauration Scolaire".
You can download the "Restopolis" app for free from the Apple App Store