mmpBusiness III
Services
Installation
We can support you when installing mmpBusiness III on a dedicated server machine.
Development
We can develop your application. If you prefer, the application comes with source code and programming documentation.
Training
We can train your developers, so your team gets as fast productive as possible.
Maintenance
Every mmpBusiness license is sold with a maintenance contract. The maintenance contract guarantees, that you get all future software updates and additional features without additional costs.
Support
We run our applications 24/24h. We know, that a professional business platform requires an extremely stable and secure environment. In case any questions or problems should arise, our support is at your service.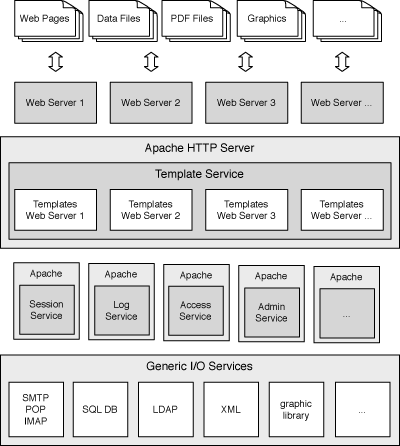 Schema of the mmpBusiness III architecture
Open Source Components
mmpBusiness III makes use of the following open source components. Caused by their licensing conditions, the open source components cannot be part of the mmpBusiness III distribution and must be installed separately.
the Apache Web server (www.apache.org)
the Perl programming language (www.perl.org)
the mod_perl Apache Perl interface (perl.apache.org)
the Apache HTTP request library (http.apache.org)
the PostgreSQL database (www.postgresql.org)
the Clam AntiVirus library (www.clamav.org)
the Cronolog log rotation utility (www.cronolog.org)
the ImageMagick library and its delegates (www.imagemagick.org)
the GhostScript application and its free fonts (www.ghostscript.com)
the Xpdf tools (www.foolabs.com/xpdf)
The following open source components come bundled with mmpBusiness III
the CKeditor (ckeditor.com)
the Yahoo Interface library (developer.yahoo.com/yui/)
The mmpBusiness III manual contains extensive instructions on how to install these components. Additional magic moving pixel offers the installation of the mmpBusiness III environment as one of its services.